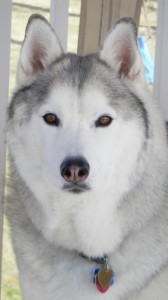 ♥ HAPPY BIRTHDAY TO THE LOVE OF MY LIFE ♥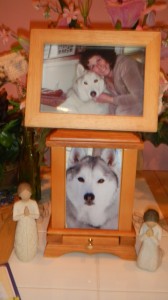 ♥  I WILL LOVE YOU UNTIL THE END OF TIME  ♥ 
Indy's birthday was June 20th, one week after he left for his journey to the  heavens above…  Pretty soon I will post our last day together – which was a very special day ~ as every day has been with him.  I find comfort knowing that he was happy and felt so loved until  his very last breath!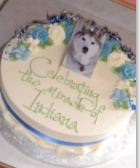 When it was getting closer to his 10th birthday, so many friends of Indiana wanted me to celebrate in style with a cake and favors!!  Indy was going to give out his famous Indy kisses!!  Since we had to say goodbye before his special day arrived, I decided that I would celebrate his life and invite all who loved him. I ordered a cake & made up special memory cards with my poem on the back.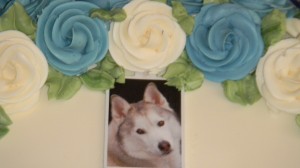 I had many friends who stopped stop by for hugs andthey wrote in a special memory book that is filled with photos of our boy on each page. They enjoyed the cake & I put a necklace around their neck with the special memory card attached…  They brought cards, flowers and  even plants to make an Indy garden! It was such a beautiful tribute!   I had many friends write to say they could not make it – but they were there in friendship & love!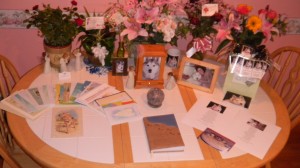 Since the celebration of his life, I have received  even more  visits, e-mails and numerous cards  ~ they are still coming in the mail! I have had friends take me out to lunch and have received so many phone calls.  It warms my heart to know that so many people, even ones who have never met him, just loved him & followed his amazing story… and are reaching out with love!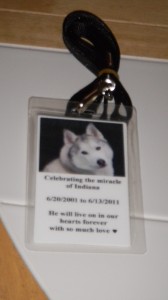 Indiana was featured in the local paper and they published the  very long story that I wrote as the guest blogger at Tripawds as he was beating the odds for 17 months!  Then another local paper featured him as well a few days later. I am truly blessed to have all of this love surrounding me ~ especially the spirit of my sweet Indiana!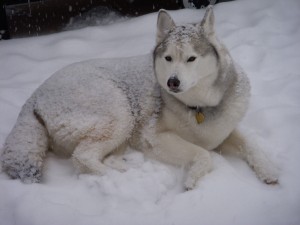 I am so empty inside and my heart aches ~ but  is so full of love. Indy has touched my soul and will  always touch my heart.  I know he is here in spirit and is watching over me. I feel his presence ~ but I miss those big hugs, songs, the "I love you's"… and all of those Indy kisses.♥