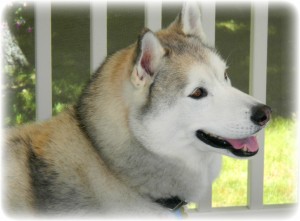 I just wanted share some wonderful news with all of you! After 4 months of taking it easy, my Indy has been "trotting" by my side once again for the past 6 weeks.  How wonderful is that! Maybe not the 4 miles like in the spring, but we walk 1/4 mile around the neighborhood. Sometimes I drive him "up town" and we parade around to let everyone know he is back!!!
 The doctors originally told us that this was not possible per risk of further damaging the torn ligament in his back right knee. They did say after time, the scar tissue would stabilize his knee…and it has! He still uses it in slow motion…but we walk a little slower than we did to protect it… In case you read the newspaper articles ~ I thought I'd update you with this great news!
The first day we were back walking, I had 1 neighbor run out of her house to give Indy a hug. Then a woman walking by stopped to join us. The next thing we knew… 4 cars pulled over, stopped and everyone ran out to visit with our miracle dog!  It's a good thing I had my sunglasses on to hide the tears streaming down my face! What wonderful gift of love we had that day!  It was very emotional!  GO INDY! Mommy loves you!