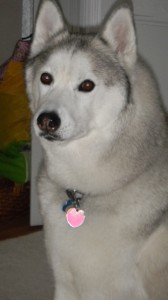 My sweet Indiana gave us quite a scare Thursday night! It started off as a wonderful day filled with fun! We had a walk in the morning & spent some relaxing time outside on the deck in the nice fresh air. After I returned home from work in the afternoon, we went for a ride in the truck & visited a few friends who have shops up-town. (and delivered kisses) We ended up walking a little more – and boy did he pull me down the sidewalk! We went for a couple of errands & a friend of mine visited him in the truck & he gave out even more kisses!  After our ride, Indy relaxed on the deck as I spent almost an hour vacuuming & wiping down the truck. Indy had a yummy dinner and took a nap as my hubby & I went out for a few hours. He was absolutely fine!!!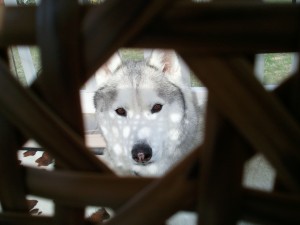 Upon our return, Indy was not in a good way. His beautiful bright eyes were glossy and had no life in them, he couldn't hold his head up and he seemed like the vibrant energy left him. We cuddled for bit I gave him plenty of kisses.  I tried so hard to hold back my tears ~ it wasn't easy, but I wanted to be brave  ~ I wanted to tell Indy that everything will be ok. We managed to get him up to take his cough medicine ~ he barely opened his mouth. I spread peanut butter all over the syringe & he licked slowly but he seemed like he had an appetite. ( A couple of weeks ago he coughed an awful lot and through the night – so we started him on cough medicine 3 times a day & he takes it like a champ – licking, licking the PB) Then we got him up to go outside to do his business and when he returned he sat up and did the real heavy panting that he does when he is in pain. Just sat there & looked the other way with his eyes barely opened.  He usually gives us 100's of kisses and he wasn't strong enough~ but managed to give us a couple. I cuddled & kissed him some more until I got him to lie down. My husband too gave him much love At this point I decided to give him a tramadol (Pain killer) guessing he was in some sort of pain.  I cuddled with him in the kitchen until the wee hours of the night until he settled down. I wanted to sleep on the floor but hubby asked me to come to bed. I barely slept as I had my ears open all night.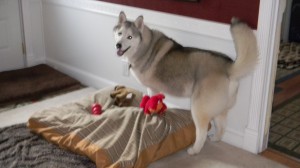 In the morning he was pretty much the same way, sitting up, panting & looking the other way. But then he surprised us both with 100's of kisses (such a good sign) I gave him another pain pill, along with his cough medicine. He licked up the PB faster than last night (a good sign)! He started to perk up a little. The big test was if he would eat his breakfast (as he is a hungry hippo)!! He gobbled up his breakfast & passed the test! I canceled my yoga class and other plans because I wasn't going to leave him. We spent from 7-1 on the deck enjoying the fresh air & each other's company. I was bundled up in a blanket at first, as it was still a bit chilly. He seemed to have brightened up more & more as the day went on. His husky friend was out for a walk & he ran over to see her and then plopped himself down & visited while resting ~ he was so happy to see her!  By the end of the day –he perked up even more. He was singing & dancing and spreading all of his love! Bright eyed and bushy tailed and so full of life!
I am so thankful to have him back – I was really scared this time as he has never been that bad. I thought we were going to lose him but he said – not yet –"I have so much more living to do – so much more love to spread!!" xoxo